Welcome to CFW Fans
Get to know more about the leaders in air technology.
About CFW Fans
CFW Fans was founded as Continental Fan Works in 1966. Expansion and diversification led to the formation of the CFW Industries group in 1991, which consists of CFW Industries, CFW Fans, CFW Environmental and CFW Projects.
LEADERS

 

IN AIR TECHNOLOGY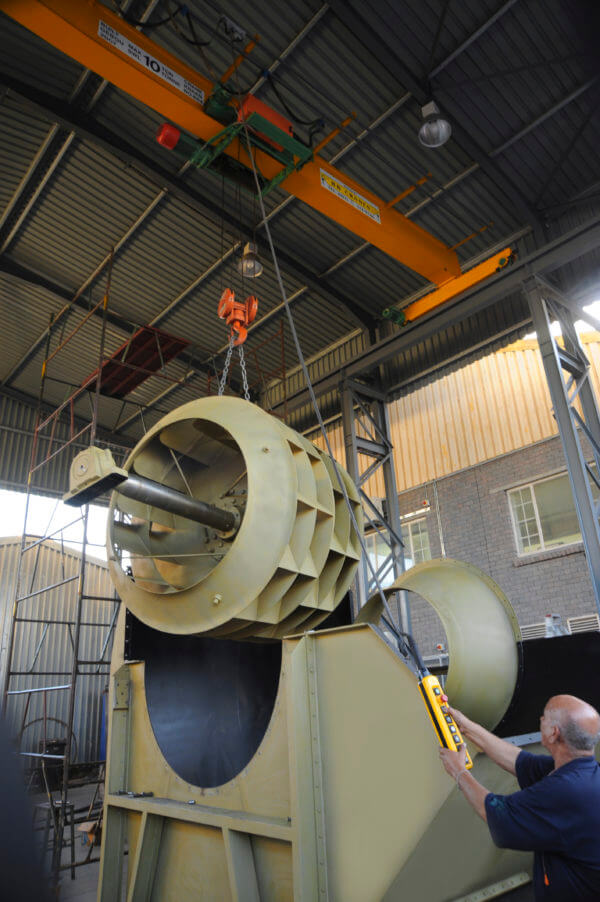 Today, the CFW Industries group is a major supplier of fans and blowers to clients in Southern Africa, as well as globally.
In partnering with our clients and other air technology providers, we seek to explore and find synergies, build mutually beneficial relationships and develop solutions which will best address the needs of our customers. Our commitment to excellence has attracted companies conducting operations throughout Southern Africa, as well as the United States, Australia, China, India, Germany and France. Our clients represent the following sectors and industries:
Mining
Power generation
Industrial processing
Agriculture
Marine
Industrial ventilation / HVAC
Automotive
Commercial
Product Design and Development
A wide range of documented, pre-engineered fans is available which have been designed and tested to ISO 5801 and BS 848 Part 1 in our Research and Development facility. Years of experience and close association with various authorities in the fields of fluid flow, thermodynamics, noise control and machine design has contributed significantly to the pool of intellectual property held by the company. Custom fans for unique applications are designed and developed using structured and fluid dynamics and proprietary design software.
Customer Service
A solutions-driven sales approach, combined with dedication to after-sales service, has gained CFW Fans the reputation of being a company that stands by its products. From original enquiry through purchase order to after-sales service, we remain committed to customer satisfaction.
A consulting service is offered to those customers requiring design assistance. Products are distributed to our markets either directly from our Cape Town or Johannesburg depots or via well-established agencies in key areas.
Quality
CFW is an SABS ISO 9001 quality management system certified company. The innovation and production of quality products that can withstand the rigours of modern industrial duty has been an essential building block in the success of CFW Fans.
Manufacturing
Our manufacturing facility is constantly upgraded to incorporate the latest manufacturing methods and CNC machinery (CAD/CAM equipment), thus ensuring competitiveness, consistency and quality.
Facilities include:
CNC Forming
Aluminium Foundry
CNC Punching & Bending
CNC Laser Cutting System
Dynamic Balancing in factory and on site
CNC Lathes & Machining Centre
Fan Testing Facility to ISO 5801 Test Standard
Flame Cutting & Welding (MMA, MIG/MAG & TIG)
Mild & Stainless Steel Plate & Sheet Metal Fabrication
CFW aims to be recognized as the best provider of overall value and service in the design & manufacture of quality industrial fans to all market sectors.
CFW is committed to providing quality products and excellent service to satisfy customers' requirements, timeously, at competitive prices, through continued market research and product development, thus maintaining sustainability in the global arena.
To accomplish this, we seek to develop staff, the group's most valued asset, through training and by creating an environment in which every person can reach their true potential.
The means through which we provide value to our clients include:
Professional design expertise.
Maintaining a multi-disciplined resource base.
Developing our own technology and maintaining our own manufacturing and design facilities, which enables us to offer superior backup and support to our customers.
Creating optimum solutions to suit the customer's application.
Designing and manufacturing products according to international best practice.
Providing a quality product guarantee.
Offering a range of support services such as fan systems energy optimization and OEM after-sales support.
Maintaining

 

an SABS

 

ISO 9001 certified quality management system.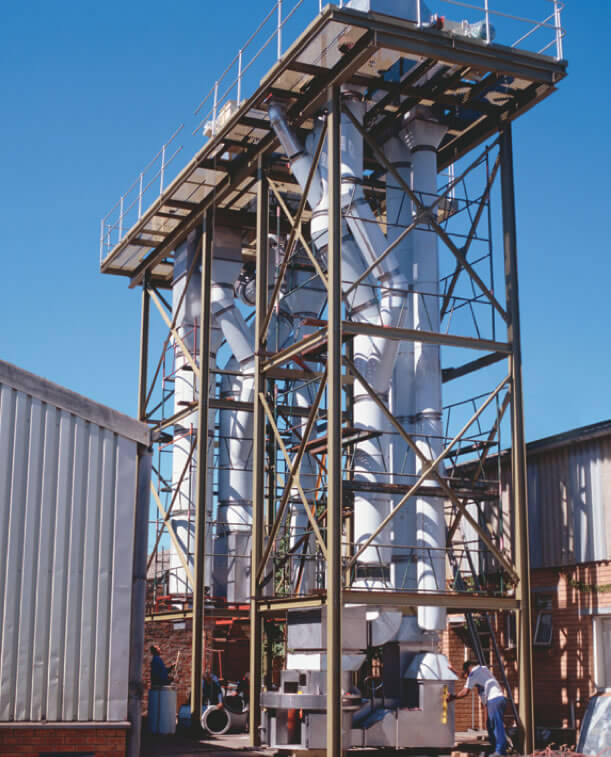 Associations
CFW Fans values its close association with the University of Cape Town (UCT) since 1970, where from humble beginnings, its first range of centrifugal fans was tested.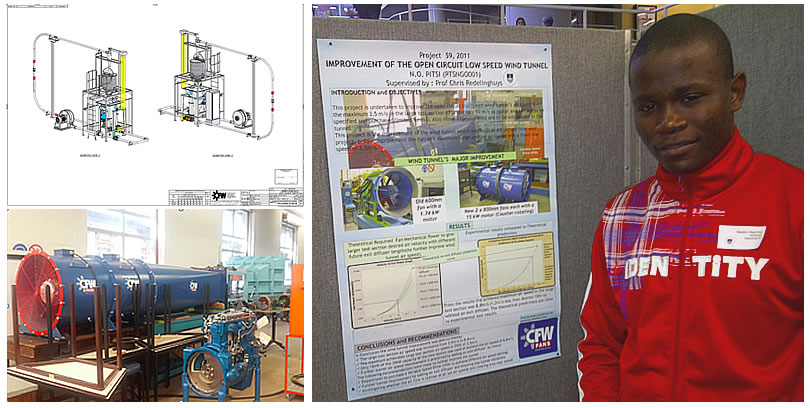 CFW has participated in various projects over the years where expertise has been shared to improve technology in industry and at the same time provided skills training for graduates. Graduates have spent time at CFW gaining practical experience, and some have completed the experimental component of their thesis with the support of CFW.
Above is a multi-stage contra-rotating axial flow fan unit which was donated to UCT Mechanical Engineering Department Fluids Laboratory to improve their wind tunnel capability and to assist their students' experimental project work.
CSIR – National Cleaner Production Centre (NCPC)
Fan System Optimisation Training
CFW Fans has been privileged to participate in the Industrial Energy Efficiency (IEE) Improvement project in South Africa. Initial expertise and training was provided by the United Nations Industrial Development Organisation (UNIDO) using international trainers to promote awareness & knowledge around energy efficiency, and grow local capacity and trainers. Many of CFW staff members have benefited from participating in the IEE training courses jointly implemented by UNIDO and the National Cleaner Production Centre South Africa (NCPC-SA) hosted by the CSIR. CFW has been committed to the initiative and one of its senior technical representatives serves the program as the lead Fan System Optimisation Expert Level Trainer in South Africa, and as a co-trainer internationally in Fan System Optimisation.

CFW's passion is made evident by substantial investment in R & D, using its test laboratory to continuously improve fan efficiencies. Fan retrofit technology provides customers with an opportunity to improve the energy efficiency of their plants and meet their emission targets. Payback periods on these initiatives are often less than 24 months.
CFW is authorised to provide private Fan System Optimisation courses to industry and its customer using the UNIDO course material.
CFW Clients
CFW prides itself on forging lasting customer relationships. Combining decades of fan engineering expertise, extensive fan applications knowledge and a passion for excellence, CFW is in a position to satisfy each clients unique needs and provide superior after-sales service.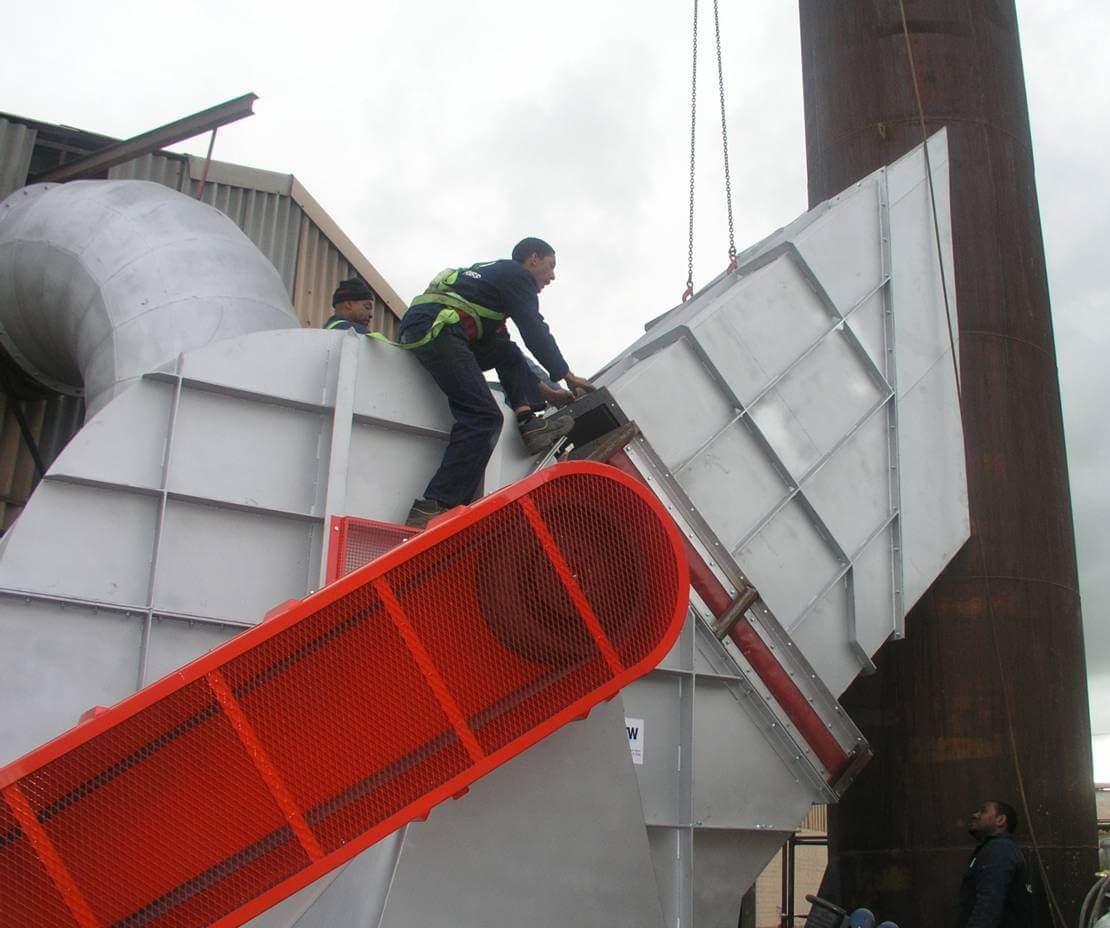 ArcelorMittal 
City of Cape Town 
Consol Glass 
De Beers 
Enviroserve Eskom 
Exxaro 
Fine Chemicals 
Irvin & Johnson 
John Thompson Boilers 
Johnson Matthey 
Kaap Agri 
Mercedes Benz 
Nampack 
Oceana Fishing 
PetroSA 
PG Bison 
PPC Cement 
Premier Foods 
SAB Miller 
Safal Steel 
Sea Harvest 
Tiger Brands 
Tongaat Hulett Starch 
Toyota 
Volkswagen
ISO 9001:2008 QMS Accredited (certificate)
Merseta Top Training Company (certificate)
Construction Industry Develpopment Board (CIDB) Vendor (certificate)
Broad Based Economic Empowerment (BBBEE) Level 4
CFW Cape Town
3 Parin Road, Parow Industria,
7493, Western Cape, South Africa
Coordinates:
Latitude: -26.103462
Longitude: 28.173319
CFW Johannesburg
4 Chilworth Road, Founders View North, Modderfontein, Edenvale, 1645, Gauteng
Coordinates:
Latitude: -33.928757
Longitude: 18.608718
Phone
+27 (0)11 452 5830 / 5146
Direct Numbers
Port Elizabeth Sales: +27 (0)83 301 6357
Port Elizabeth Servicing: +27 (0)83 301 6357/ +27 (0)81 892 4582
Gauteng / Kwa Zulu Natal: +27 (0)83 501 6535
Large / Heavy Duty Fans: +27 (0)83 778 7555
Customer Queries: +27 (0)83 301 6357