Information and Downloads
Here is some useful information and downloads pertaining to CFW's products and services.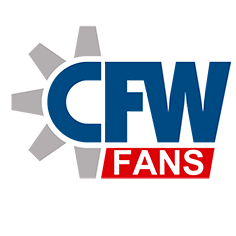 Fan Technical
Information
CFW is an ISO 9001 quality management system certified company.
All products developed at CFW's manufacturing facilities are tested in accordance with ISO quality management system procedures.
Materials of Construction
A comprehensive range of materials, including mild steel, pre-galvanised sheet metal, stainless steels, and special high spec steels are offered with a wide range of protective finishes. Our sales engineers will assist you in compiling a suitable material and protection specification to suit your application.
Bearings
CFW uses the finest-quality bearings, selected for a minimum life of more than 100 000 hours. To improve fan reliability, we apply broad factors of safety when sizing shafts and calculating bearing loads. Standard fans are fitted with plummer block bearings incorporating grease-lubricated, self-aligning ball or spherical roller bearing sets. Higher class fans are fitted with unitary housing bearings designed specially for purpose.
Power Transmission
Couplings and pulley drives are selected with high factors of safety to ensure reliability and prevent unscheduled maintenance shutdowns.
Testing and Standards
Performance curves are based on tests done in accordance with ISO5801 2007 in our Research and Development Laboratory. CFW is an ISO 9001 quality management system accredited company and manufactures to CE, ANSI, and NEMA standards on request.
Aerodynamic performance standards
| | |
| --- | --- |
| ISO 5801 | Industrial fans – Performance testing using standardized airways |
| ISO 5802 | Industrial fans – Performance testing in situ |
Safety standards
| | |
| --- | --- |
| ISO 12499 | Industrial fans – Mechanical safety of fans-guarding |
| EN 14461 | Industrial fans – Safety requirements |
Mechanical vibration level standards
| | |
| --- | --- |
| ISO 14694 | Industrial fans – Specification for balance quality and vibration levels |
| ISO 10816 | Mechanical vibration – Evaluation of machine vibration by measurement of non-rotating parts |
| ISO 1940 | Balance quality of rigid bodies |
| ISO 13348 | Fans – Tolerances, methods of conversion and technical data presentation |
| ISO 12759   | Fans – Efficiency classification for fans |
Welding standards
Electric Motors
A selection of motor enclosures and windings with various degrees of protection against water or dust ingress, or suitable for hazardous or high temperature applications is outsourced and fitted to complete the package.
Along with fan system energy optimisation, fans are being fitted with high efficiency motors on request.
Please furnish our sales engineers with full details concerning your power supply, i.e. voltage, phase, frequency, etc. with your enquiry.
In order to optimise your fan system, please complete the Fan Enquiry Form and one of our engineers will select the best option for your application.
The fan affinity laws express the relationship between elements of fan performance and power use. They help to predict how a certain type of fan will behave when the impeller diameter or rotational speed are changed. Since it is impractical to test all sizes of a type of fan at all speeds and inlet densities, the fan laws are a great asset to industry.
The laws assume a constant efficiency and are limited to particular point on the fan characteristic curve. Two fans must be geometrically proportional (i.e. have similar dynamics) to be comparable.
It is also important to note that design and manufacturing tolerances affect the applicability of the fan laws. This means that some loss of accuracy is to be expected in normal ventilation, with better accuracy where the affinity laws are used to extrapolate from smaller impeller sizes to larger ones rather than vice versa.
The most common use of the affinity laws is to calculate how pressure, flow volume and power use changes with different impeller diameters and velocities. The laws can also be used to estimate variables where gas densities vary, but fan performance data are often based on a standard air density (1.20 kg/m³) at zero elevation.
Above fan pressures of 2000 Pa compressibility effects become noticeable and should be included in the equations to improve the accuracy of performance predictions. The fan laws are represented below by the following equations and are in their simplified form.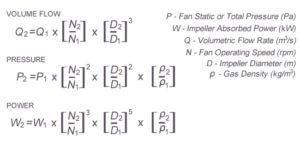 CFW Corporate Brochure
CFW holds a leading market position in Southern Africa specialising in the design and manufacture of industrial fans, drying systems, fume and dust control systems and related products and services.
CFW Fans Products Brochure
Introducing CFW's range of high quality fan products, accessories and components for industrial and commercial markets.
Axial Fans Brochure
Introducing a range of high quality propeller and axial aerofoil fans suitable for HVAC and industrial applications where reliability and performance are non-negotiable criteria.
Centrifugal Fans & Blowers Brochure
CFW manufactures robust, heavy-duty air movement equipment for industrial applications. Four different types of centrifugal fan, namely: Backward Curved, Forward Curved, Radial Bladed and MPI complete this comprehensive range of fans. Four different blower types, namely: TRB, TBC, V and CRB makes up this range of blowers.
Components Brochure
CFW manufactures a selection of high quality components and accessories suitable for original equipment manufacturers and industry in general.
Dust Collectors Brochure
Introducing a range of robust, fabric type dust collectors for use in all applications where dust control is required.
Easycool Evaporative Cooler Brochure
EasyCool systems has one of the highest ratios of airflow and evaporation filter media per square metre of floor area to be cooled.
Roof Fan Units
High quality, durable, fibreglass roof units available in side or verticle discharge format. An assortment of impeller types and motor enclosures can be fitted depending on the duty required.
Powerkool Evaporative Cooler Brochure
Robust and powerful fibreglass evaporative air coolers for commercial and industrial applications where system pressures require a centrifugal fan.
Cooling Fans Brochure
Our cooling fans create a pleasant outdoor or work environment. Attractive design with three speed settings with oscillating or fixed head positioning. Pedestal or wall mounting. Robust industrial construction. Ideal for use in factories, workshops, homes, restaurants, sporting facilities, etc.
Propeller Fans Brochure
A cost effective unit for most ventilation requirements, ideal for use in workshops, factories, shops, kitchens, poultry houses, and agricultural buildings.
Maxiflow Greenhouse Fans Brochure
The most cost effective method of exhausting large volumes of air from industrial and agricultural buildings, available in sizes ø750, ø760, ø1000, ø1250, & ø1400mm.
Eezivent Ventilator Brochure
Designed specifically for ventilation of confined spaces, welding fume exhaust, underground manhole & pipe ventilation, equipment and/or personnel cooling, and carpet drying applications.
Plate Axial Fan Brochure
The design of plate mounted fans is such that these fans can be utilised to move air across a partition, be it a wall, a plenum chamber, a duct or a drying chamber, to name but a few.
CFW Cape Town
3 Parin Road, Parow Industria,
7493, Western Cape, South Africa
Coordinates:
Latitude: -26.103462
Longitude: 28.173319
CFW Johannesburg
4 Chilworth Road, Founders View North, Modderfontein, Edenvale, 1645, Gauteng
Coordinates:
Latitude: -33.928757
Longitude: 18.608718
Phone
+27 (0)11 452 5830 / 5146
Direct Numbers
Port Elizabeth Sales: +27 (0)83 301 6357
Port Elizabeth Servicing: +27 (0)83 301 6357/ +27 (0)81 892 4582
Gauteng / Kwa Zulu Natal: +27 (0)83 501 6535
Large / Heavy Duty Fans: +27 (0)83 778 7555
Customer Queries: +27 (0)83 301 6357