Fan Aftermarket Services
CFW offers a wide range of aftermarket support and technical services to our customers to maintain their fan equipment in good working order. Our team of experienced and dedicated field technicians are available 24 hours a day, 7 days a week to service and repair any type of fan in the field.
Our service teams follow standard safety protocol, are equipped with the necessary personal protection equipment and use modern instrumentation to perform their main services which include:
Fan Repairs and Servicing
Dynamic Balancing
Fan Performance Testing
Condition Monitoring
Fan Systems Optimisation
Fan Design
O.E.M Manufacturing Facilities
Service Contracts
Fan Repairs and Servicing
CFW repairs and maintains industrial fans of all types, at our works or on site. Our personnel are trained and dedicated to ensuring fast transport, repair and installation of fans for our customers.
Our repair and maintenance activities include:
24-hour emergency fan repair and breakdown service
Professionally engineered fan repair solutions
Fan balancing and vibration analysis
Fan shaft and fan pulley laser alignment
Fan failure assessment and analysis
Making design improvements to extend impeller life
Replacing impellers, worn shafts, couplings, bearings and motors
Rebuilding or repair of impellers
Non-destructive testing, magnetic particle inspection dye penetration and ultrasonic testing
Providing spare impellers and rotor assemblies for critical machinery
Replacing/ repairing fan blades, housing, scrolls, dampers, pedestals, inlet cones, wear liners and collars
Repairing and replacing ancillary components such as ducting, dampers, anti-vibration mountings and fan bases
High pressure cleaning and shot blasting of fan equipment
Fan and system air performance testing.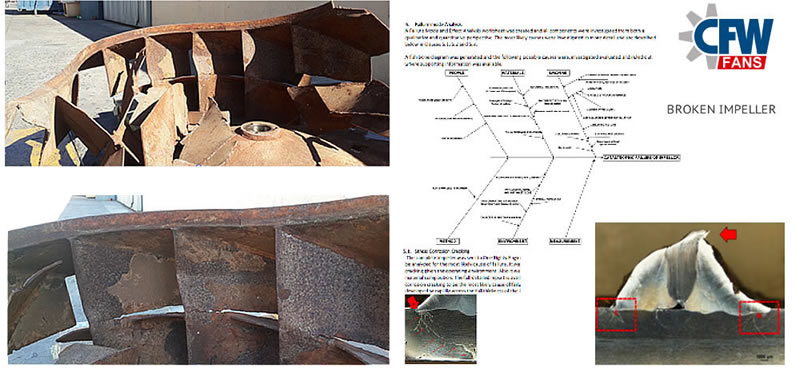 Customers derive value from CFW's servicing options which are aimed at reducing total cost of ownership of fan equipment. Our clients can benefit from the company's 50 years' application experience in major industries such as Steel, Cement, Mining, Shipping and Power Generation.
Our Preventative Maintenance Program (PMP) is designed to preserve and enhance equipment reliability by replacing worn components before they actually fail. Long-term benefits of implementing our PMP include:
Improved system performance and reliability
Decreased plant and production downtime
Decreased cost of maintenance
Improved critical spare parts inventory management
Scheduled planned maintenance replaces costly breakdowns
Complete maintenance records and technical data packs are developed over time giving our clients superior support and fast response times
CFW Fans offers customised service agreements tailored to suit our client's needs. Our service contracts give our clients preferential access to our expertise and experience as an OEM fan company. Our field services teams together with our fully equipped testing facilities are used to maintain, repair and test industrial fans of all types.
Our typical service contracts include:
Fan service plan, detailing the scope of the service
Thorough periodic inspections and evaluations of all internal and external fan ancillaries
Maintenance of motors; bearings; seals; belts; pulleys; flexible collars and fan ancillaries
Condition monitoring of fan vibration levels and balance quality grades in accordance with ISO14694 and ISO10816 standards
Database of maintenance records and trending data (vibration and balancing)
Monitoring, analysis and provision of periodic reports to client's maintenance supervisor on the health status of fan equipment
Aerodynamic performance re-certification of repaired fans to ISO5801 and AMCA210
Fan Dynamic Balancing
Dynamic balancing improves fan operational performance and reliability:
Reduced impeller vibration and noise lead to safer working environments and improved working conditions
The life of the fan and connected components such as ducts, electrical components and cables is extended
Lower stresses and wear mean less maintenance and downtime. Not only are excessive labour and material costs eliminated but fan vibration damage is also reduced.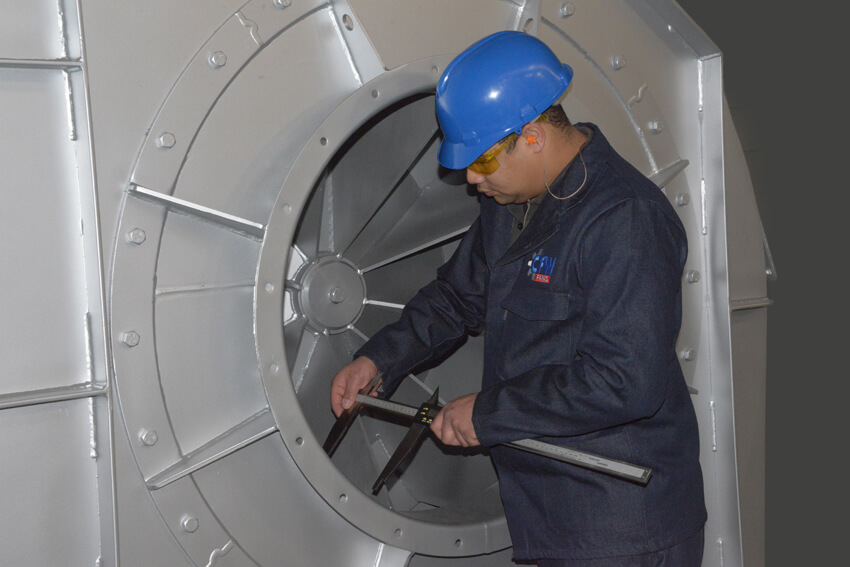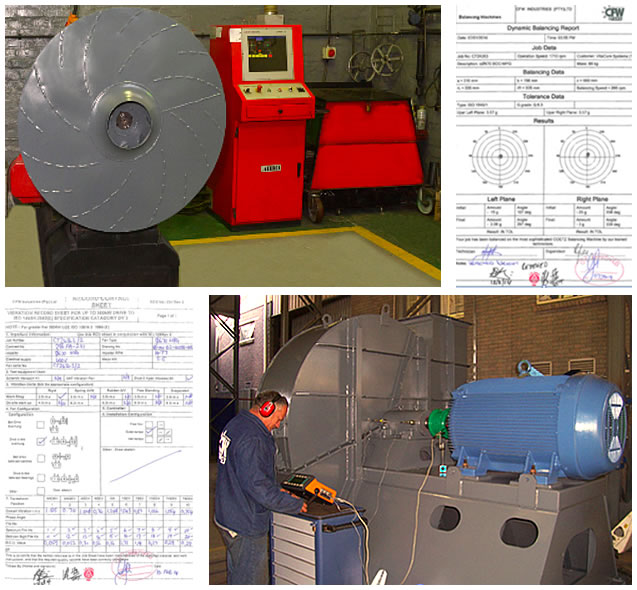 Imbalance of impellers is the most common cause of fan problems and if left unattended can result in extensive damage to assets and pose a serious threat to human safety.
Fan static balancing is relatively simple and can be done while the fan is at rest. The imbalance will be along the axis of rotation, causing the heavier part of the fan to be lower when set up with a shaft on a knife edge support. Adding weight on the opposite side corrects the problem. By contrast, dynamic balance must be tested with a rotating impeller using specialised instrumentation. Correction often requires adjustment on more than one plane.
CFW balances industrial fans according to international standards ISO1940, ISO14694 and ISO10816 as part of our manufacturing practices and range of services.
Fan Performance Testing
An essential requirement of fan engineering is guaranteeing that the fan achieves its documented aerodynamic performance characteristics. All pre-engineered fans in the CFW Fan Selection Software are tested and documented to Factory Aerodynamic Performance Testing ISO 5801 and Site Aerodynamic Testing to ISO 5802 as part of our commitment to provide a high standard of accuracy to all our clients.
Allowable tolerance grades are prescribed in ISO 13348 standard with AN3 being the standard adopted by CFW Fans. Fans constructed to AN1 and AN2 are available on special request. As part of our continual product improvement program, CFW Fans conducts rigorous fan tests in a modern laboratory. We adopt ISO 5801 and AMCA 210 fan aerodynamic performance testing standards, which govern the design of laboratory testing equipment, the instruments used, as well as the installation type being tested (i.e. outlets or inlets being either ducted or free). This ensures that airflow and pressure characteristics are well defined in the documentation.
Apart from performance testing, a variety of other tests and procedures are carried out to ensure product integrity. These include:
Quality control plan
Mechanical run tests
Vibration level tests to ISO 14596
Noise tests
Structural dynamic testing (including impact tests)
Coast down tests for VSD applications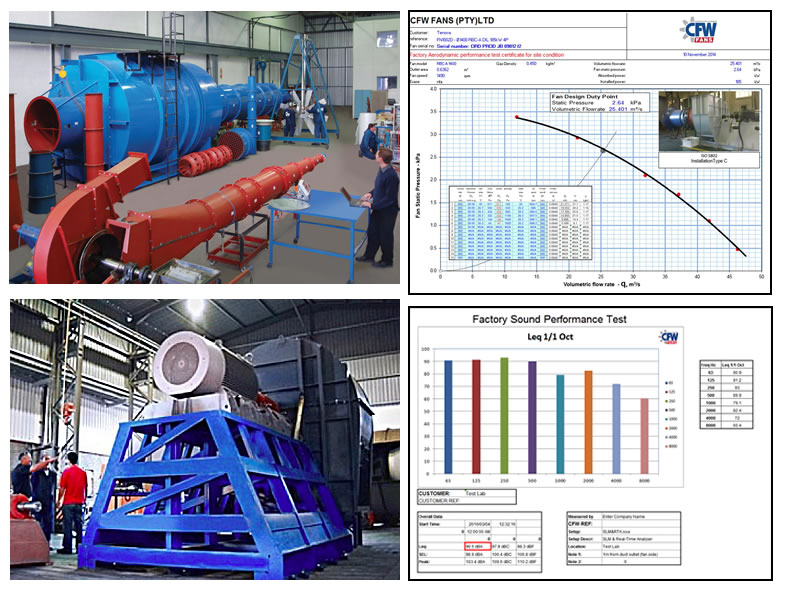 Industrial fans often operate under high stresses in arduous conditions. Methodical engineering design and testing help to make performance and life of the fan more predictable. Testing is particularly important for the innovative custom designs we produce for clients who require durable specialised equipment.
Laboratory testing does not perfectly reflect the field performance of the fan, as it can be affected by the ductwork, fan accessories and other parts of the airflow system. To ensure that the performance of the fan will be adequate in field conditions, further testing can be performed on site, and the product or accessories can be modified if necessary.
In most industrial plants where many different processes are required to work together reliably and efficiently to achieve an end goal, condition monitoring equipment is a pre-requisite.
CFW Fans can install condition monitoring systems on our industrial fans during manufacture, or retrofit to existing equipment. Where routine maintenance is too costly or cannot adequately guarantee performance, condition monitoring systems will give early warning about potential equipment problems that could lead to failures before scheduled maintenance can be performed. Operational data is periodically monitored and compared with acceptable levels of performance to get an indication of the functioning of the machine. This makes it a key element of preventative maintenance programs (PMP's)
Condition monitoring is an efficient and proactive approach to scheduling and managing maintenance so that resources can be directed where needed. At the same time, it does not intrude on the production process. Condition monitoring has several advantages:
Monitoring equipment, common to all types of rotating machines, can be used to alert maintenance personnel when impellers exceed predetermined vibration levels, and/ or bearing temperatures exceed specified limits, are typical examples
Substantial financial savings on production losses and repairing secondary damage by pre-empting breakdowns
Peace of mind for investors, managers and maintenance personnel
Condition monitoring is often associated with the use of a critical index. Relevant information such as the purpose, redundancy, repair costs and impact of poor functioning or failure of a machine are used to classify it as critical, essential or general purpose machinery.
Critical machinery
is absolutely necessary to the functioning of the plant, making it worthwhile to collect data on its functioning continuously even at high costs
Essential machinery
is important for factory operations but can be dispensed with in an emergency. This includes redundant machinery. Control and testing of such equipment is still undertaken and backup plans are put in place.
General purpose machinery
may be monitored only periodically using handheld data collection.
Condition monitoring equipment consists of sensors that gather information (such as vibration, temperature, pressure and so on), transmitters that forward the information to a central monitoring point via screened cables. Depending on the client's requirements, this information can be displayed in a control room, and/or trigger alarms to alert the client on-site, or via the internet.
Fan System Optimisation
CFW Fans offers consultation for maximizing the energy efficiency and performance of fan systems. The specialist knowledge base we have acquired in the area of fan system efficiency is based on many decades of experience with air movers in production contexts. Solutions can be provided for virtually any system making use of fans, including pneumatic conveying, industrial process systems, HVAC applications and others.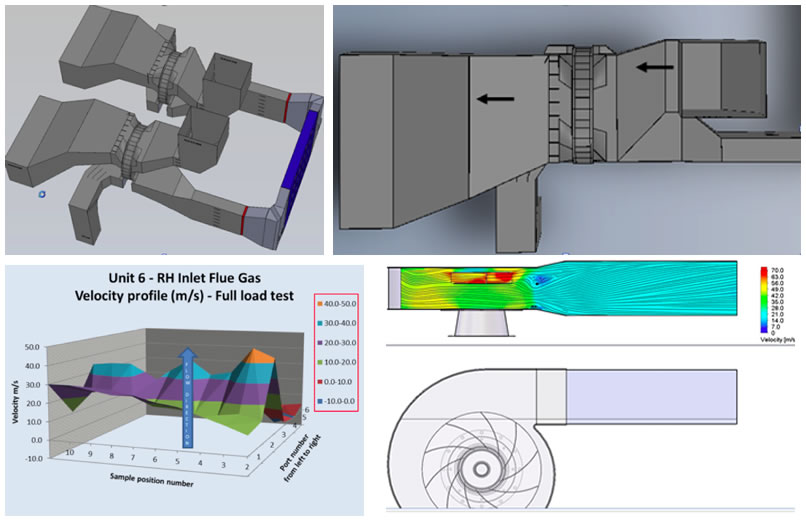 Higher energy prices and stricter legislation have highlighted the importance of finding energy-saving opportunities. Many industries are looking for ways to cut costs, and optization their air systems is a key part of this trend. In many sectors, such as wastewater treatment, drying applications, ventilation systems in mines, cement plant process fans and in the glass manufacturing industry, the fans are responsible for a large proportion of the energy requirements in those plants. A study of these fans and air systems often reveals very real opportunities for energy savings along with the related financial gains. The complexity of fan systems optimization means that tailored solutions are often required. A systems approach, rather than focussing strictly on the fan, or mixing and matching of parts, usually yields the best results.
Among the possibilities that exist for improving the system are:
Ensuring that the correct air quantity is being supplied to the process
Analysing the system to determine elements where the pressure drop is prohibitive or can be improved
Measuring the fan aerodynamic performance to determine if it matches the system requirements
Fan efficiency upgrades
Replace inefficient fan impellers with higher efficiency designs using CFW's fan retrofit technology
Use fan speed control to regulate air quantity at partial loads. The relationship between power use and fan speed is such that reducing fan speeds by a small amount can greatly reduce energy use. Although they incur higher capital costs, variable speed drives allow for lower speeds during low ventilation or process loads, allowing for large energy savings.
Install inlet guide vane control to centrifugal fans to regulate flow rate between 80 and 100% of capacity.
Improve process control logic
Improve the design and layout of the fans, ducts, dampers and system components to reduce dynamic and friction losses
Improve the air distribution patterns
Improve the maintenance program
Convert belt driven fans to direct drive which are more efficient and have lower maintenance costs.
CFW's engineers have practical experience with many types of air systems and can help you find ways to improve the efficiency of your system without undue sacrifices of functioning or equipment life.
Fan Retrofit Solutions
Customers may need to upgrade their existing fan systems to improve performance, fan efficiency or to meet new process air requirements in their plant.
In these cases substantial cost savings may be achieved by replacing the existing impeller with a custom designed impeller that fits into the existing fan housing. CFW's experience in air applications together with its extensive fan testing capabilities has provided our customers with unique solutions when applying fan retrofit technology. Fan efficiency, air power density and impeller mechanical reliability is typically improved, and the aerodynamic performance is guaranteed. An engineering solution using the existing fan casing, drive motor, fan shaft and bearings may often be achieved. A thorough analysis of the fan and system must be done beforehand when applying this technology. This includes site performance testing and a detailed inspection of the fan installation.
For any queries, please click on the button below.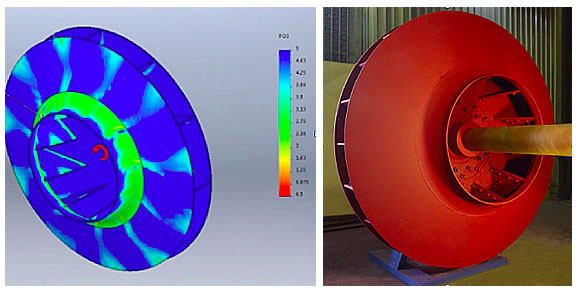 Fan Design
CFW Fans is a leading fan designer, offering custom fan design services. We can assess your requirements and design and manufacture solutions accordingly. A wide range of applications can be catered for.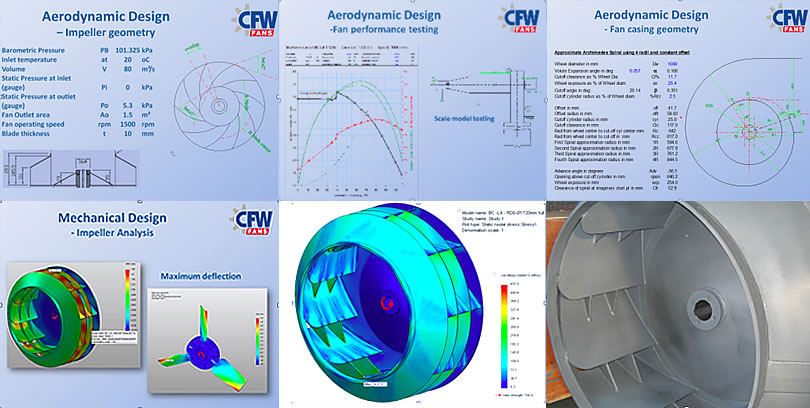 We can offer:
The development and drawing of new fan products.
Evaluation, prototyping and testing.
Product improvement design services.
Design consultation services.
A high percentage of local content.
We have wide experience in engineering and manufacturing, so that every aspect of the system requirements and operating parameters can be taken into account in creating the fan specification. Variables considered include:
Trade-offs

 

between airflow, pressure development and impeller characteristics.
Finite element analysis for stress analysis of impellers.
Factor of safety.
Deflection during operation.
Impeller safe speeds.
The risk of abrasion and corrosion.
Operating temperature and humidity.
Modal analyses to determine the natural frequencies of the impeller, to prevent vibration problems that can lead to equipment failure.
We carefully design fans to be easily maintainable, durable and cost-effective. The result is a product that is more cost-effective across its operating life than alternatives.
Designs are produced in 3D CAD (SolidWorks) and can thus be easily imported into customers' existing electronic drawings. Numbered and fully traceable parts can be manufactured using CNC forming, punching and bending processes. Complete drawings can be provided, and our spares manual contains clearly indicated drawing numbers. This enables us to provide faster, more effective after-sales service.
CFW can fully integrate all fans into industrial process systems and do the electrical systems and software systems for control and monitoring if required.
Note that fans designed under standard conditions will not necessarily perform according to specification in the field. Site evaluations and testing are necessary to determine what a fan will be capable of in actual operating conditions.
We offer a quality product guarantee of one year on all new products.
O.E.M Manufacturing Facilities
The CFW group provides a range of fabrication facilities for high-volume O.E.M. component production in mild / stainless steel and aluminium.
CNC Punching
Fast, accurate and economical punching of mild steel and aluminium sheet up to 6.0mm thick and stainless steel up to 3.0mm thick.
CNC Laser Profiling
CFW Laser was established in 2006 and offers precision profile cutting and bending. We can accommodate sheet sizes of maximum 4 meter x 1.25 meter and can laser cut mild steel up to 20mm thick. The team are dedicated to excellent service, competitive pricing and on-time delivery.
CNC Spinning
Fast, accurate and economical punching of mild steel and aluminium sheet up to 6.0mm thick and stainless steel up to 3.0mm thick.
CNC Bending
Fast, accurate sheetmetal bending – positioning accuracy of up to 0.005 mm. Accommodates up to 10 mm thickness for 3 meter sheet (up to 4.4 meter for thinner plate). Split tooling for different lengths and applications. Special applications possible thanks to lower tool displacement, enabling flattening and folding.
Stainless Steel Fabrication
Cutting, bending, and welding of light and heavy gauge stainless steel plate.
CNC Machining
Computerised mass production turning and milling facilities. Manufacturing of hubs, pulleys, blades etc.
Please visit www.cfwlaser.co.za to enquire about our services..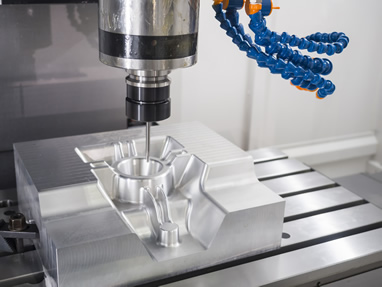 CFW Cape Town
3 Parin Road, Parow Industria,
7493, Western Cape, South Africa
Coordinates:
Latitude: -26.103462
Longitude: 28.173319
CFW Johannesburg
4 Chilworth Road, Founders View North, Modderfontein, Edenvale, 1645, Gauteng
Coordinates:
Latitude: -33.928757
Longitude: 18.608718
Phone
+27 (0)11 452 5830 / 5146
Direct Numbers
Port Elizabeth Sales: +27 (0)83 301 6357
Port Elizabeth Servicing: +27 (0)83 301 6357/ +27 (0)81 892 4582
Gauteng / Kwa Zulu Natal: +27 (0)83 501 6535
Large / Heavy Duty Fans: +27 (0)83 778 7555
Customer Queries: +27 (0)83 301 6357