CFW offers this high-efficiency backward-curved centrifugal fan fitted fitted with inlet guide vanes for industrial process air systems such as glass production plants.
The fan is constructed from certified mild steel and stainless steel, with flexible connectors on flanges, condition monitoring equipment and anti-vibration mountings. Its power rating can be up to 600 kW.
Designed & manufactured to specification:
ISO 5801 Aerodynamic Standards
ISO 12499 Safety Standards
ISO 14694 Vibration Levels and Balance Quality
PLEASE NOTE
Due to our continued efforts to improve product design and performance, CFW reserves the right to alter any product details specified here without notice.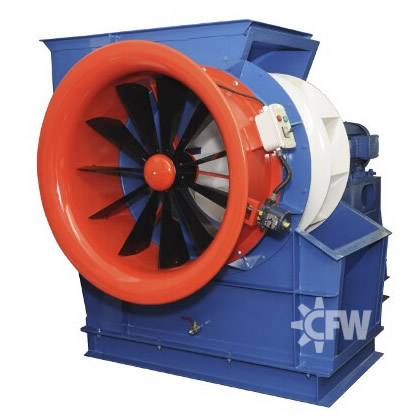 CFW Cape Town
3 Parin Road, Parow Industria,
7493, Western Cape, South Africa
Coordinates:
Latitude: -26.103462
Longitude: 28.173319
CFW Johannesburg
4 Chilworth Road, Founders View North, Modderfontein, Edenvale, 1645, Gauteng
Coordinates:
Latitude: -33.928757
Longitude: 18.608718
Phone
+27 (0)11 452 5830 / 5146
Direct Numbers
Port Elizabeth Sales: +27 (0)83 301 6357
Port Elizabeth Servicing: +27 (0)83 301 6357/ +27 (0)81 892 4582
Gauteng / Kwa Zulu Natal: +27 (0)83 501 6535
Large / Heavy Duty Fans: +27 (0)83 778 7555
Customer Queries: +27 (0)83 301 6357