Designed for use in the textile industry where the blower is required to convey fibres and fluff. The backward curved shroudless impeller delivers low gas volumes at medium to high pressures.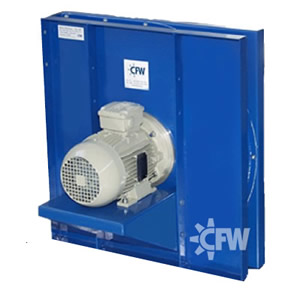 This range (V400/0.75 kW, V500/2.2 kW, V600/5.5 or 7.5 kW) is available only with three-phase motors due to the relatively high starting torques required to accelerate the heavy die-cast aluminium impellers up to speed.
The casings are of mild steel sheet with a high build epoxy paint finish.
Other applications include bio-filter pressurization, compost aeration, flotation tables, low-pressure air knives, exhaust fume extraction and pneumatic conveying.
Performance curves are based on tests done in accordance with ISO 5801 in our Research and Development Laboratory.
PLEASE NOTE
Due to our continued efforts to improve product design and performance, CFW reserves the right to alter any product details specified here without notice.
CFW Cape Town
3 Parin Road, Parow Industria,
7493, Western Cape, South Africa
Coordinates:
Latitude: -26.103462
Longitude: 28.173319
CFW Johannesburg
4 Chilworth Road, Founders View North, Modderfontein, Edenvale, 1645, Gauteng
Coordinates:
Latitude: -33.928757
Longitude: 18.608718
Phone
+27 (0)11 452 5830 / 5146
Direct Numbers
Port Elizabeth Sales: +27 (0)83 301 6357
Port Elizabeth Servicing: +27 (0)83 301 6357/ +27 (0)81 892 4582
Gauteng / Kwa Zulu Natal: +27 (0)83 501 6535
Large / Heavy Duty Fans: +27 (0)83 778 7555
Customer Queries: +27 (0)83 301 6357