EEZI-VENT

 

PORTABLE VENTILATION UNIT
This unit is designed for air supply and local exhaust ventilation in confined spaces. It is ideal for fume extraction applications to provide a healthy and productive work environment. Applications include welding fume exhaust, ventilating underground manholes, pipes and storage tanks, equipment and/or personnel cooling, and carpet drying.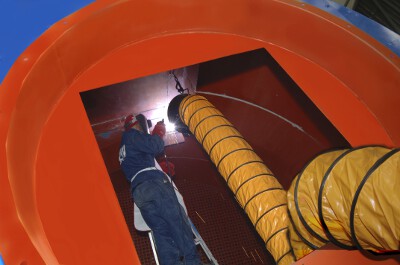 All models are equipped with handle/s, a switch, cable and plug, and safety guards at the inlet and discharge. The unit is constructed from an efficient, high-speed tube axial fan with a robust steel casing. The casing is finished with high-visibility paint and equipped with rubber mounting feet.
These portable ventilators come in the following sizes: 200 mm, 300 mm, 400 mm, 450 mm, 600 mm and 800 mm, all with powerful, high-speed, single-phase 220 V motors. CFW can supply 5 m lengths of flexible hose to exhaust contaminated air or supply fresh air. The hose sections are of high-strength PVC material with eyelets to allow them to be suspended. Inlet cones to aid effective fume capture are also available. The Eezi-vent series has been ergonomically designed and safety tested to SABS IEC 60335-2-80.
Ventilation of confined spaces
Carpet drying applications
Welding fume exhaust
Underground manhole and pipe ventilation
Equipment cooling
Personnel cooling
Invest in a healthy and productive work environment!
Please visit www.fanshop.co.za to purchase online or download our Eezi-Vent brochure for more information.
PLEASE NOTE
Due to our continued efforts to improve product design and performance, CFW reserves the right to alter any product details specified here without notice.
CFW Cape Town
3 Parin Road, Parow Industria,
7493, Western Cape, South Africa
Coordinates:
Latitude: -26.103462
Longitude: 28.173319
CFW Johannesburg
4 Chilworth Road, Founders View North, Modderfontein, Edenvale, 1645, Gauteng
Coordinates:
Latitude: -33.928757
Longitude: 18.608718
Phone
+27 (0)11 452 5830 / 5146
Direct Numbers
Port Elizabeth Sales: +27 (0)83 301 6357
Port Elizabeth Servicing: +27 (0)83 301 6357/ +27 (0)81 892 4582
Gauteng / Kwa Zulu Natal: +27 (0)83 501 6535
Large / Heavy Duty Fans: +27 (0)83 778 7555
Customer Queries: +27 (0)83 301 6357