AXIAL

 

FAN ACCESSORIES AND COMPONENTS
CFW manufactures a selection of high quality components and accessories suitable for original equipment manufacturers and industry in general. Production runs of specialized components, tailored to your needs, is made possible with our CNC machinery.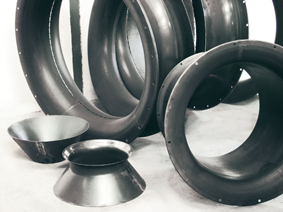 CFW Fans can provide a full range of ancillary equipment for axial fans, including:
Inlet and discharge ducting
Cones
Filter boxes
Fibreglass weather cowls: Attractive and aerodynamically designed for minimum resistance to airflow. The cowls are designed for wall-mounted exhaust fans and effectively protect fan inlets and exhaust openings from prevailing weather conditions. The available sizes are 400, 500, 560, 630 and 710 mm. The cowls are equipped with bird mesh screens.
Guards
Fan impellers: A full range of axial aerofoil impellers including: Heavy Duty Aluminium (HDA)- 315 to 2000 mm diameter; Light Duty Aluminium (LDA) – 315 to 1250 mm diameter; Light duty glass reinforced nylon blades with aluminium hub (LDP) 315 to 1120 mm diameter. Impellers are available ex stock in component form and can be assembled, pitch angle set and balanced ready installation at short lead times. A range of double inlet forward curved impellers is available to order.
Aluminium sliding dampers: A typical application of these dampers is in sawdust extraction systems. Available in sizes to suit 75, 100, 125, 150, 180, and 200 mm diameter ducts.
Aluminium pulleys: High quality gravity die cast aluminium pulleys are machined to close tolerances and supplied as standard with a 10 mm pilot bore. The range includes A and B section, single and two groove pulleys from 50 to 400 mm outside diameter. The pulleys are solid up to and including size 165 mm diameter and thereafter they are spoked.
Cyclone grease filters: This filter is manufactured of stainless steel grade 430 and replaces the conventional mesh type filter for use in kitchen exhaust canopies. Available in size 500 x 500 x 50 mm for an airflow of 0.3 m³/s @ 150 Pa.
Spares are readily available.
PLEASE NOTE
Due to our continued efforts to improve product design and performance, CFW reserves the right to alter any product details specified here without notice.
CFW Cape Town
3 Parin Road, Parow Industria,
7493, Western Cape, South Africa
Coordinates:
Latitude: -26.103462
Longitude: 28.173319
CFW Johannesburg
4 Chilworth Road, Founders View North, Modderfontein, Edenvale, 1645, Gauteng
Coordinates:
Latitude: -33.928757
Longitude: 18.608718
Phone
+27 (0)11 452 5830 / 5146
Direct Numbers
Port Elizabeth Sales: +27 (0)83 301 6357
Port Elizabeth Servicing: +27 (0)83 301 6357/ +27 (0)81 892 4582
Kwa Zulu Natal: +27 (0)83 501 6535
Large / Heavy Duty Fans: +27 (0)83 778 7555
Customer Queries: +27 (0)83 301 6357