Versatile ranges of centrifugal blowers cater for higher-pressure and volume applications, with motor sizes of up to 1 MW. At CFW, our R&D design facility has been able to achieve efficiencies in the order of 70% with the RB-HT series and up to 80% with the BC-HT series, offering the engineer an economical, energy-wise solution for many industrial applications.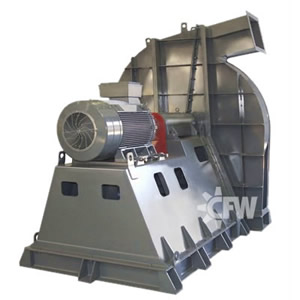 The tapered radial-bladed blowers (RB-HT) have radial self-cleaning impellers, and can be utilised in light dust conveying applications. The tapered backward-curved blowers (BC-HT) offer higher efficiencies and are used in clean air applications. These blowers are offered in a range of drive configurations and are available for selection in our Fan Selection Software.
Quality, compact and efficient
Tested to ISO 5801
Robust construction
Computerised selection program available
Pre-engineered and custom engineered blowers to exacting requirements
Versatile range
Radial bladed or backward curved impellers up to 3000 mm
The impellers are interchangeable
Volumes up to 120 m/s and pressures up to 30 kPA (single stage) and 60 kPa (multi-stage)
Power from 0.75 kW to 1 MW
PLEASE NOTE
Due to our continued efforts to improve product design and performance, CFW reserves the right to alter any product details specified here without notice.
CFW Cape Town
3 Parin Road, Parow Industria,
7493, Western Cape, South Africa
Coordinates:
Latitude: -26.103462
Longitude: 28.173319
CFW Johannesburg
4 Chilworth Road, Founders View North, Modderfontein, Edenvale, 1645, Gauteng
Coordinates:
Latitude: -33.928757
Longitude: 18.608718
Phone
+27 (0)11 452 5830 / 5146
Direct Numbers
Port Elizabeth Sales: +27 (0)83 301 6357
Port Elizabeth Servicing: +27 (0)83 301 6357/ +27 (0)81 892 4582
Gauteng / Kwa Zulu Natal: +27 (0)83 501 6535
Large / Heavy Duty Fans: +27 (0)83 778 7555
Customer Queries: +27 (0)83 301 6357