RADIAL

 

BLADED (MATERIAL HANDLING FANS)
The radial bladed and radial tip fan ranges with self cleaning blade configuration are designed for use where airborne solids pass through the fan. They are manufactured for rigorous industrial applications and have relatively high discharge velocities suitable for pneumatic conveying.
A range of impeller designs is available to suit various high temperature and material conveying applications.
Casings are constructed with quick release, heavy duty inspection panels and split casings, where necessary, for quick access to the impeller for maintenance procedures.
PLEASE NOTE
Due to our continued efforts to improve product design and performance, CFW reserves the right to alter any product details specified here without notice.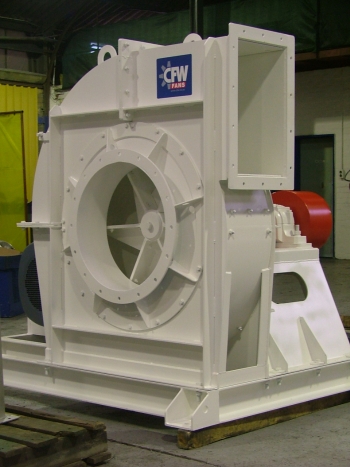 CFW Cape Town
3 Parin Road, Parow Industria,
7493, Western Cape, South Africa
Coordinates:
Latitude: -26.103462
Longitude: 28.173319
CFW Johannesburg
4 Chilworth Road, Founders View North, Modderfontein, Edenvale, 1645, Gauteng
Coordinates:
Latitude: -33.928757
Longitude: 18.608718
Phone
+27 (0)11 452 5830 / 5146
Direct Numbers
Port Elizabeth Sales: +27 (0)83 301 6357
Port Elizabeth Servicing: +27 (0)83 301 6357/ +27 (0)81 892 4582
Gauteng / Kwa Zulu Natal: +27 (0)83 501 6535
Large / Heavy Duty Fans: +27 (0)83 778 7555
Customer Queries: +27 (0)83 301 6357