Pedestal and Wall Fans
This range offers economical and effective air cooling for the comfort of occupants in industrial or commercial buildings. Relief from stuffiness and heat can be accomplished by wall or pedestal fans circulating a high-volume air stream over a wide area.
The results are a pleasant outdoor environment or a healthy work environment, increased staff productivity, and reduced heat stress. Using these fans, you can often achieve higher profits without the expense of an air conditioner.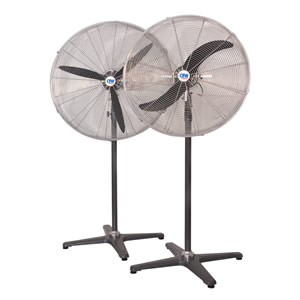 These fans offer the following attractive features:
Pedestal or wall mounting:

CFW supplies two standard size (650 mm and 750 mm) units, both available either as a wall mount or pedestal version. While the wall mount fan is no longer portable after installation, it saves floor space when compared to the pedestal mounted fan so that it will not be in the way of equipment, machines or workers.

Three speed settings:

The speed of these units can be adjusted using a built-in three-speed regulator mounted at the rear of the motor body.

Oscillating or fixed head positioning:

The area covered can be adjusted by changing the swing of the fan from 0° to 90° by adjusting the position of the externally located screw on the oscillation mechanism. The height of the pedestal version is adjustable by means of a knob on the side of the pedestal. Vertical adjustment is also possible.

Attractive design:

The fans are finished in chrome and grey hammertone.

Robust industrial construction:

The axial impeller is of robust construction, making use of reinforced and balanced steel blades. Fans are fitted with a close guard around the impeller and fitted with a 2 m electrical cord and a 15 A plug as standard.
Applications
Factories & workshops
Pools, patios, barbecues
Restaurants, bars, & clubs
Sporting & recreational areas
Queues, walkways, or seating areas
Greenhouses, livestock & farming enterprises
Please visit www.fanshop.co.za to puchase online.
PLEASE NOTE
Due to our continued efforts to improve product design and performance, CFW reserves the right to alter any product details specified here without notice.
CFW Cape Town
3 Parin Road, Parow Industria,
7493, Western Cape, South Africa
Coordinates:
Latitude: -26.103462
Longitude: 28.173319
CFW Johannesburg
4 Chilworth Road, Founders View North, Modderfontein, Edenvale, 1645, Gauteng
Coordinates:
Latitude: -33.928757
Longitude: 18.608718
Phone
+27 (0)11 452 5830 / 5146
Direct Numbers
Port Elizabeth Sales: +27 (0)83 301 6357
Port Elizabeth Servicing: +27 (0)83 301 6357/ +27 (0)81 892 4582
Gauteng / Kwa Zulu Natal: +27 (0)83 501 6535
Large / Heavy Duty Fans: +27 (0)83 778 7555
Customer Queries: +27 (0)83 301 6357