REGENERATIVE

 

/ SIDE CHANNEL BLOWERS
Regenerative blowers (aka. side-channel blowers) can be utilised as either compressors or exhausters to move clean, filtered, non-corrosive, non-explosive gases. They produce a pulse-free, oil-free gas flow and are compact, quiet and easy to install.
In addition to this, regenerative blowers are relatively maintenance free. The impeller is the only moving part and does not come into contact with the housing. The blowers have no intake/ exhaust valves. These blowers offer an ideal solution for moving low volumes of air at relatively high suction or delivery pressures. Unlike positive displacement compressors and vacuum pumps, regenerative blowers 'regenerate' air through a process of centrifugal and rotational forces.
These blowers are also referred to as lateral channel blowers, side channel blowers or ring compressors.
They are an economical solution to a wide variety of applications.
Download our
brochure
 for more information.
PLEASE NOTE
Due to our continued efforts to improve product design and performance, CFW reserves the right to alter any product details specified here without notice.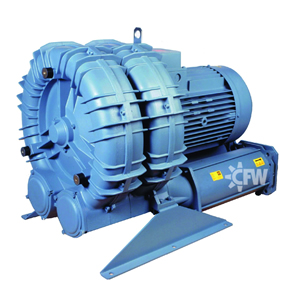 CFW Cape Town
3 Parin Road, Parow Industria,
7493, Western Cape, South Africa
Coordinates:
Latitude: -26.103462
Longitude: 28.173319
CFW Johannesburg
4 Chilworth Road, Founders View North, Modderfontein, Edenvale, 1645, Gauteng
Coordinates:
Latitude: -33.928757
Longitude: 18.608718
Phone
+27 (0)11 452 5830 / 5146
Direct Numbers
Port Elizabeth Sales: +27 (0)83 301 6357
Port Elizabeth Servicing: +27 (0)83 301 6357/ +27 (0)81 892 4582
Gauteng / Kwa Zulu Natal: +27 (0)83 501 6535
Large / Heavy Duty Fans: +27 (0)83 778 7555
Customer Queries: +27 (0)83 301 6357