POSITIVE

 

PRESSURE VENTILATORS FOR FIREFIGHTING
Used by firefighters to clear smoke from burning buildings. The CFW PPV440 combines the reliability and expertise of CFW's 50 years of design and manufacturing experience with the proven track record of the 5.5 HP Honda GX 160 petrol engine, providing an essential tool for firefighting operations.
Features:
Superior and stable airflow characteristics
Compact design with fold-out towing handle and frame tilt mechanism
Hard wearing 150 mm rubber wheels
Smooth reliable operation
Lightweight ergonomic design for fast deployment
Carrier frame protects the equipment at the fire scene
Oil alert protection system guards against damage from low oil production
PLEASE NOTE
Due to our continued efforts to improve product design and performance, CFW reserves the right to alter any product details specified here without notice.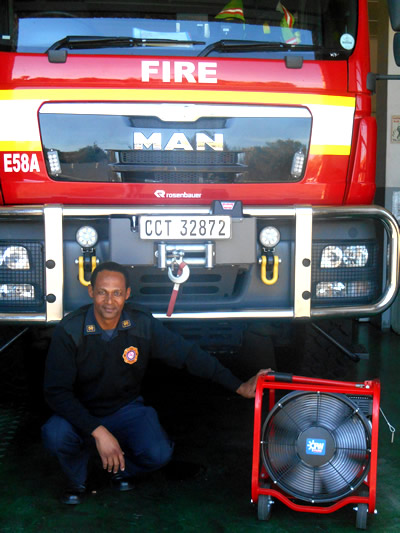 CFW Cape Town
3 Parin Road, Parow Industria,
7493, Western Cape, South Africa
Coordinates:
Latitude: -26.103462
Longitude: 28.173319
CFW Johannesburg
4 Chilworth Road, Founders View North, Modderfontein, Edenvale, 1645, Gauteng
Coordinates:
Latitude: -33.928757
Longitude: 18.608718
Phone
+27 (0)11 452 5830 / 5146
Direct Numbers
Port Elizabeth Sales: +27 (0)83 301 6357
Port Elizabeth Servicing: +27 (0)83 301 6357/ +27 (0)81 892 4582
Gauteng / Kwa Zulu Natal: +27 (0)83 501 6535
Large / Heavy Duty Fans: +27 (0)83 778 7555
Customer Queries: +27 (0)83 301 6357