CENTRIFUGAL

 

MULTI-STAGE BLOWERS (UP TO 60 KPA)
CFW manufactures multi-stage blowers for use where relatively high pressures at low airflow rates are required. The gas or air passes through two or more impellers, being channelled from one impeller's outlet to another's inlet. The impellers are radial-bladed or backward curved, depending on the application and duty required.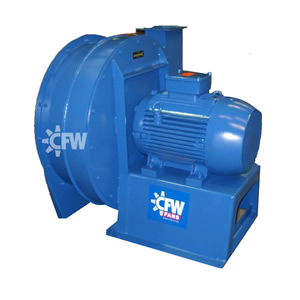 This type of blower has a lower capital cost andis more energy efficient than the positive displacement blowers.
Multi-stage centrifugal blowers are usually direct-driven with the benefit of a small plant footprint.
This type of blower is used in a variety of municipal and industrial applications:
Wastewater treatment, particularly where relatively large air volumes are required.
Silo and liquid aeration / agitation
Air knives
Fluidisation
Combustion air duties
Gas compression in the chemical industry
Printing industry
PLEASE NOTE
Due to our continued efforts to improve product design and performance, CFW reserves the right to alter any product details specified here without notice.
CFW Cape Town
3 Parin Road, Parow Industria,
7493, Western Cape, South Africa
Coordinates:
Latitude: -26.103462
Longitude: 28.173319
CFW Johannesburg
4 Chilworth Road, Founders View North, Modderfontein, Edenvale, 1645, Gauteng
Coordinates:
Latitude: -33.928757
Longitude: 18.608718
Phone
+27 (0)11 452 5830 / 5146
Direct Numbers
Port Elizabeth Sales: +27 (0)83 301 6357
Port Elizabeth Servicing: +27 (0)83 301 6357/ +27 (0)81 892 4582
Gauteng / Kwa Zulu Natal: +27 (0)83 501 6535
Large / Heavy Duty Fans: +27 (0)83 778 7555
Customer Queries: +27 (0)83 301 6357