This vertical discharge roof fan range has a reducing cone on the discharge of the fan to increase the velocity of the exhausted air. These units are designed to comply with municipal by-laws where extraction of noxious fumes requires that the fumes are ejected at high speed into the atmosphere. This prevents re-contamination of the ventilated area. Five sizes make up this range, namely Ø500, Ø630, Ø710, Ø800, and Ø1000 mm providing a wide range of performance combinations.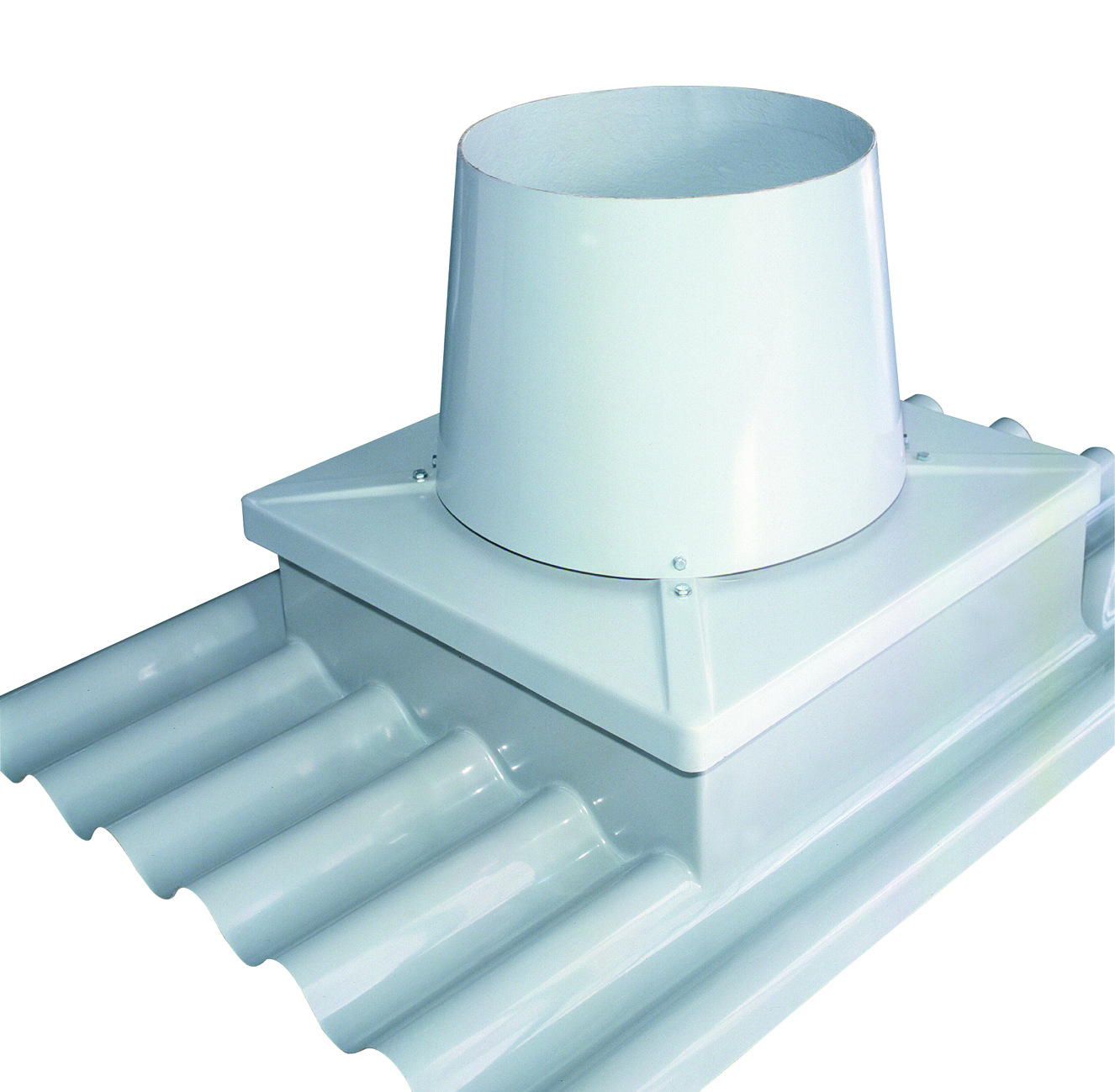 These roof fans are used to exhaust air from:
Factories, warehouses, and agricultural buildings
Ducted extraction systems
Spray booths
Kitchen canopies
Boiler houses
Compressor rooms
Features:
Corrosion-resistant components
Robust construction
Aesthetic appeal
High discharge velocity
Gravity-operated flaps close when the roof unit is not in operation to prevent rain from entering the building.
The vertical jet fans have cast aluminium axial aerofoil impellers, statically balanced to well within balancing grade G6.3.
The cowl and weather skirt are manufactured using a multi-layer UV protected glass-reinforced polyester resin, ensuring strength and years of trouble-free operation. The automatic shutter is of aluminium and support components from hot-dipped galvanised steel. For especially adverse conditions, components can be constructed from stainless steel.
Accessories, such as soaker sheets for a range of roof profiles, duct adaptors, & rodent screens are available on request.
Standard aluminium or cast iron motors with various degrees of protection against ingress of water or dust, operation in hazardous locations or at high temperatures are available upon request.
PLEASE NOTE
Due to our continued efforts to improve product design and performance, CFW reserves the right to alter any product details specified here without notice.
CFW Cape Town
3 Parin Road, Parow Industria,
7493, Western Cape, South Africa
Coordinates:
Latitude: -26.103462
Longitude: 28.173319
CFW Johannesburg
4 Chilworth Road, Founders View North, Modderfontein, Edenvale, 1645, Gauteng
Coordinates:
Latitude: -33.928757
Longitude: 18.608718
Phone
+27 (0)11 452 5830 / 5146
Direct Numbers
Port Elizabeth Sales: +27 (0)83 301 6357
Port Elizabeth Servicing: +27 (0)83 301 6357/ +27 (0)81 892 4582
Gauteng / Kwa Zulu Natal: +27 (0)83 501 6535
Large / Heavy Duty Fans: +27 (0)83 778 7555
Customer Queries: +27 (0)83 301 6357