These fans are designed to handle high temperatures or other industrial airstreams that may shorten the life of the fan motor. The motor is isolated from the system airstream, enabling the unit to operate in dusty, hot, or saturated environments.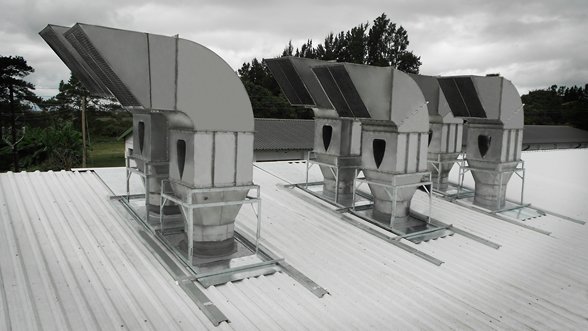 Two types are available.
The standard temperature unit has the following features:
Suitable for temperatures up to 70°C
Aluminium impeller
Bifurcated steel casing
Class "F" motor
The high temperature unit differs from the standard unit in the following respects:
Suitable for temperatures up to 200°C
Insulated motor chamber
Drive shaft heat slinger
Where particularly demanding duties are involved, please ask our sales engineers. We will almost certainly have a fan in our range (axial or centrifugal) to match your application.
A wide range of electric motors can be fitted to suit your application including motors for use in emergency duty hot smoke extraction – for further information, see "Motors" in "Fan Technical Information".
PLEASE NOTE
Due to our continued efforts to improve product design and performance, CFW reserves the right to alter any product details specified here without notice.
CFW Cape Town
3 Parin Road, Parow Industria,
7493, Western Cape, South Africa
Coordinates:
Latitude: -26.103462
Longitude: 28.173319
CFW Johannesburg
4 Chilworth Road, Founders View North, Modderfontein, Edenvale, 1645, Gauteng
Coordinates:
Latitude: -33.928757
Longitude: 18.608718
Phone
+27 (0)11 452 5830 / 5146
Direct Numbers
Port Elizabeth Sales: +27 (0)83 301 6357
Port Elizabeth Servicing: +27 (0)83 301 6357/ +27 (0)81 892 4582
Gauteng / Kwa Zulu Natal: +27 (0)83 501 6535
Large / Heavy Duty Fans: +27 (0)83 778 7555
Customer Queries: +27 (0)83 301 6357