Centrifugal Fans
CFW's comprehensive range of low and medium pressure fans consist of eighteen different types of centrifugal fan. These cover a wide range of airflow, pressure and application options.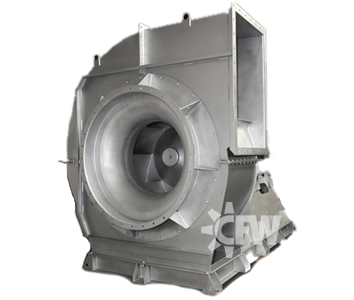 The backward curved ranges typically offer high static efficiencies (up to 89%) and are suitable for clean air and light pneumatic conveying applications with a temperature capability of up to 550°C. When used in conjunction with inlet guide vanes and/or variable speed drives, these fans provide the design engineer with excellent energy optimisation opportunities.
The radial bladed and radial tip ranges of fans are designed for use where airborne solids pass through the fan. They are manufactured for rigorous industrial applications with self-cleaning blade configuration and relatively high discharge velocities, suitable for pneumatic conveying.
The forward curved fan series finds its application in the air conditioning and ventilation installations where quiet running and low operational noise levels are important considerations.
In order to optimise your fan system, please complete the Fan Enquiry Form and one of our engineers will select the best option for your application.
TESTING AND STANDARDS
Performance curves are based on tests done in accordance with ISO 5801 in our Research & Development Laboratory. CFW is an ISO 9001 certified company, and manufactures to CE, ANSI, and NEMA standards upon request.
CUSTOMER SERVICE
From original enquiry through purchase order to after sales service and backup, we remain committed to customer satisfaction. Our sales engineers, by careful assessment of your needs, will ensure that the correct solution is provided. To complete the package, our site service team is available to carry out routine maintenance, repairs and on site balancing, locally and abroad.
Download our centrifugal fans & blowers brochure for more information or see our products below:
PLEASE NOTE
Due to our continued efforts to improve product design and performance, CFW reserves the right to alter any product details specified here without notice.
CFW Cape Town
3 Parin Road, Parow Industria,
7493, Western Cape, South Africa
Coordinates:
Latitude: -26.103462
Longitude: 28.173319
CFW Johannesburg
4 Chilworth Road, Founders View North, Modderfontein, Edenvale, 1645, Gauteng
Coordinates:
Latitude: -33.928757
Longitude: 18.608718
Phone
+27 (0)11 452 5830 / 5146
Direct Numbers
Port Elizabeth Sales: +27 (0)83 301 6357
Port Elizabeth Servicing: +27 (0)83 301 6357/ +27 (0)81 892 4582
Gauteng / Kwa Zulu Natal: +27 (0)83 501 6535
Large / Heavy Duty Fans: +27 (0)83 778 7555
Customer Queries: +27 (0)83 301 6357