CFW Fans manufactures many types of fans and blowers suitable for air supply or extraction in industrial process cooling systems. Our fans are reliable and can deal with the demands of systems that need to operate at various temperatures.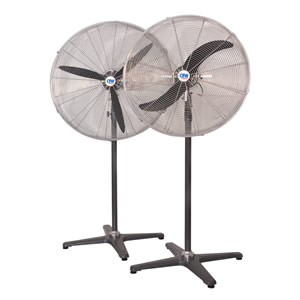 Economical & Effective Cooling Solution
Reduces heat stress
Increases staff productivity
Creates a healthy work environment
Creates a pleasant outdoor environment
Low operating costs
Attractive design
Features
Reinforced and balanced steel blades
Oscillating or fixed head positioning
Three speed settings
Robust industrial construction
Applications
Factories & workshops
Restaurants, bars & clubs
Sporting & recreational areas
Queues, walkways or seating areas
Pools, patios & barbeques
Livestock & farming enterprises
Greenhouses
Please visit www.fanshop.co.za to purchase online or download our brochure for more information.
CFW also supplies evaporative cooling solutions, including two models of evaporative coolers, the commercial Easycool™ cooler and the industrial Powerkool™ cooler. We can also supply Wetwalls and custom designed Fan & Pad systems. For more information, see Evaporative Cooling.
PLEASE NOTE
Due to our continued efforts to improve product design and performance, CFW reserves the right to alter any product details specified here without notice.
CFW Cape Town
3 Parin Road, Parow Industria,
7493, Western Cape, South Africa
Coordinates:
Latitude: -26.103462
Longitude: 28.173319
CFW Johannesburg
4 Chilworth Road, Founders View North, Modderfontein, Edenvale, 1645, Gauteng
Coordinates:
Latitude: -33.928757
Longitude: 18.608718
Phone
+27 (0)11 452 5830 / 5146
Direct Numbers
Port Elizabeth Sales: +27 (0)83 301 6357
Port Elizabeth Servicing: +27 (0)83 301 6357/ +27 (0)81 892 4582
Gauteng / Kwa Zulu Natal: +27 (0)83 501 6535
Large / Heavy Duty Fans: +27 (0)83 778 7555
Customer Queries: +27 (0)83 301 6357