Centrifugal Blowers
With 50 years' experience supplying into a wide spectrum of industrial applications, CFW is able to offer blowers suitable for many different applications. These include clean air, dirty air, corrosive gases, high temperature gases as well as for abrasive particular and fibrous matter conveying.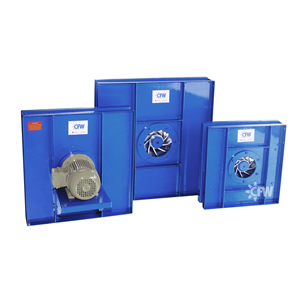 A broad spectrum of airflows and pressures are possible via the different blower ranges on offer, namely:
SRT Blowers
CRB Blowers
V-Blowers
BC-HT Blowers
BC-HL Blowers
RB-HT Blowers
Custom designed blowers can also be manufactured to suit specific operational criteria.
In order to optimise your fan system, please complete the Fan Enquiry Form and one of our engineers will select the best option for your application.
Download our centrifugal fans & blowers brochure for more information or see our products below:
PLEASE NOTE
Due to our continued efforts to improve product design and performance, CFW reserves the right to alter any product details specified here without notice.
CFW Cape Town
3 Parin Road, Parow Industria,
7493, Western Cape, South Africa
Coordinates:
Latitude: -26.103462
Longitude: 28.173319
CFW Johannesburg
4 Chilworth Road, Founders View North, Modderfontein, Edenvale, 1645, Gauteng
Coordinates:
Latitude: -33.928757
Longitude: 18.608718
Phone
+27 (0)11 452 5830 / 5146
Direct Numbers
Port Elizabeth Sales: +27 (0)83 301 6357
Port Elizabeth Servicing: +27 (0)83 301 6357/ +27 (0)81 892 4582
Gauteng / Kwa Zulu Natal: +27 (0)83 501 6535
Large / Heavy Duty Fans: +27 (0)83 778 7555
Customer Queries: +27 (0)83 301 6357